Reports by the FACCE MACSUR Knowledge Hub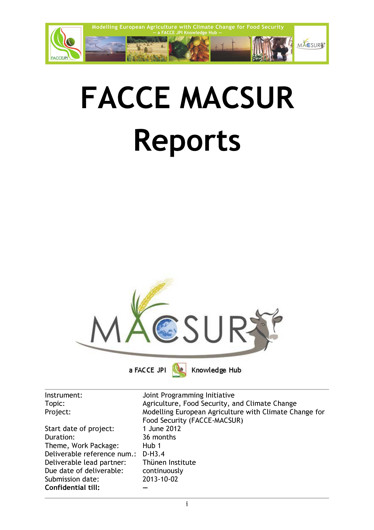 ---
Previous issues and volumes can be found in the 'Archives' section.
You can refer to a paper published in this series in the following format Author (2013) Title. FACCE MACSUR Reports 2: D-C1.3, where "D-C1.3" is the article ID en lieu of page range.
Announcements
No announcements have been published.
Vol 9 (2016)
This volume includes the presentations of the TradeM International Workshop 2016 »Assessing climate change adaptation and mitigation options«, 9–12 October 2016, Tromsø–Trondheim, Norway.
Table of Contents
TradeM International Workshop 2016 »Assessing climate change adaptation and mitigation options«
| | | |
| --- | --- | --- |
| | Klaus Mittenzwei, Floor Brouwer, Franz Sinabell | T0.1-M3 |
| | | |
| --- | --- | --- |
| | Ignacio Perez Dominguez | SP9-13 |
| | | |
| --- | --- | --- |
| | Andreas Meyer-Aurich | SP9-14 |
Crop Modelling