The FACCE MACSUR Mid-Term Scientific Conference: 'Achievements, Activities, Advancement'
Abstract
The mid-term meeting was held in Sassari, Sardinia, 1-4 April 2014. The meeting was attended by 120 researchers and stakeholders from 16 countries (Fig. 1). After a day of looking back on the achievements during the first two years and presenting results to stakeholders, researchers focused on fine-tuning the planning of remaining work for the project till May 2015 and preparations for a follow-up project (MACSUR2) till May 2017. On an excursion, scientists and stakeholders visited farms in the Oristano region, one of the regional case studies of MACSUR. The meeting was a unique opportunity in this pan-European project for discussing in person common issues with and among stakeholders of different regions and how to approach the impact of climate change to producing food in Europe in a world with a growing population. A report in La Nueva Sardegna highlighted the conference.
Excursion: dairy sheep farm "Su Pranu"(Siamanna), dairy cattle farm "Sardo Farm" (Arborea), Arborea Cooperative
Recordings of the presentations are available on YouTube: https://www.youtube.com/channel/UCr_joXlUIJ_NBW8cWOgh0_g
The presentations are available in the supplement to this issue.
Short papers derived from the presentations are available on the conference website and in FACCE MACSUR Reports vol 3.
The food consumed during lunches at the conference originated mostly from the Oristano region. Remaining food in good condition was donated to a charity organisation for needy people.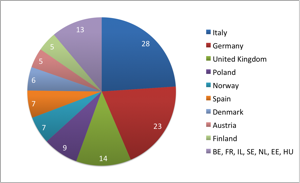 Fig. 1. Number of participants per country.
---
Previous issues and volumes can be found in the 'Archives' section.
You can refer to a paper published in this series in the following format Author (2013) Title. FACCE MACSUR Reports 2: D-C1.3, where "D-C1.3" is the article ID en lieu of page range.