Reports by the FACCE MACSUR Knowledge Hub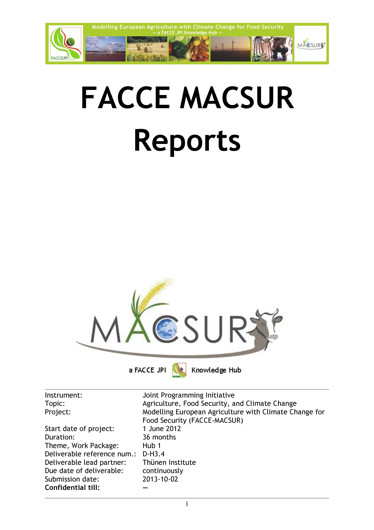 ---
Previous issues and volumes can be found in the 'Archives' section.
You can refer to a paper published in this series in the following format Author (2013) Title. FACCE MACSUR Reports 2: D-C1.3, where "D-C1.3" is the article ID en lieu of page range.
Announcements
No announcements have been published.
Vol 11 (2017)
Last volume of FACCE MACSUR Reports. The project has ended in 2017. Reports have received a DOI and are available also through
PUBLISSO
.
Table of Contents
General
| | | |
| --- | --- | --- |
| | Floor Brouwer (ed.), Martin Köchy (ed.) | H0.2-M4 |